Why eye trackers?
We design our games and applications for the eye tracking technology.
The technology's aim is to follow and analyse human visual activity – that is to track one's eye movements. Eye tracking helps in determining how eyes move, what they focus on the most often and, also, what they focus on the longest. Such analyses can be employed not only in medicine but also in different branches of marketing.
For some time now eye tracking technology has been used for other ends. It turns out eye movement can replace the cursor movement of the computer mouse. Thus, eye tracking can be used  in the entertainment industry – but also in therapy.
Eye tracking is the perfect tool for those permanently immobilized and paralysed as well as for people having difficulty with  maintaining eye contact, for example those suffering from conditions such as cerebral palsy or Rett syndrome.
How do I know if my child needs an eye tracking set?
If the child finds it challenging to hold eye contact or is permanently immobilized, the games can prove to be great help in therapy. For children who cannot fully control their hands and arms, the ability to play games is priceless. Not only does it develop a sense of agency and control but also it helps getting to know your environment, discerning objects, holding gaze as well as moving this gaze in a given direction.
Our website offers examples of such  games which can be played with an eye tracker set or with a mouse – this can help you decide if the games are suitable for your child. Conferences on therapy for the disabled are often accompanied by presentations of eye tracker sets along with their dedicated software. There you can have the opportunity to test such applications. It is also worth to follow the websites and profiles of companies working on eye tracker sets.
Technical requirements
In order to use our products, an eye tracking set is required. Although for many this kind of equipment is relatively new, the market succeeds in introducing more and more accessible sets of eye trackers for the everyday user.
Some computer hardware companies have declared they will equip their monitors and laptops with eye tracking technology in 2017, this way increasing the accessibility of our products.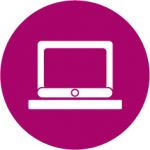 KINKA is optimized for many eye-trackers
---
Tobii Dynavox PCEye Mini

Tobii Dynavox I-Series+

Tobii EyeX
MSI Eye Tracking Latops,
Alienware Eye Tracking Laptops,
Acer Eye Tracking Monitors,
Steel Series SENTRY Gaming Eye Tracker
Tobii Eye Tracker 4C
myGaze Eye Tracker

---
Look how Dorotka is playing with the Eye Tracker!
Music: 'Carpe Diem' Kevin MacLeod (incompetech.com)
Licensed under Creative Commons: By Attribution 3.0 License
http://creativecommons.org/licenses/by/3.0/